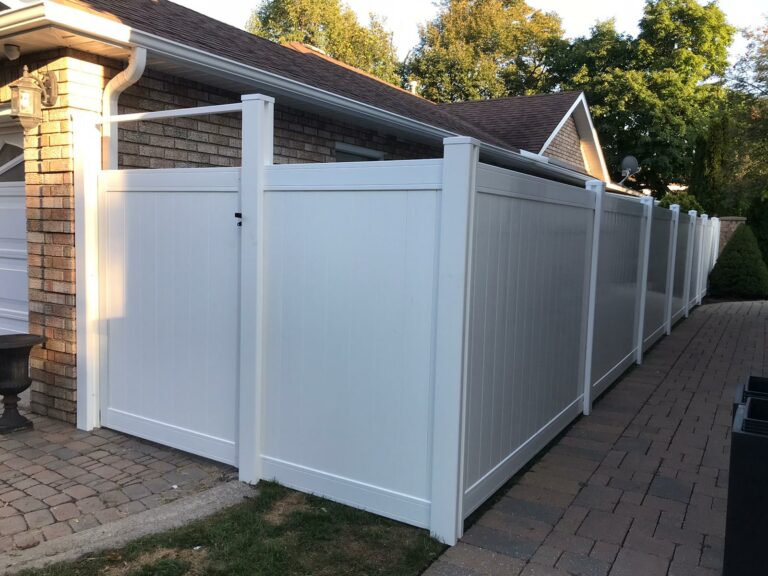 What Makes PVC Fence Oshawa the Top Choice?
Are you considering installing a PVC fence in Oshawa?
If so, this comprehensive guide will provide you with all the information you need about PVC fencing products and their benefits.
What is PVC Fencing?
PVC fencing, also known as vinyl fencing, is a synthetic plastic fence made from PVC. This type of fence has become increasingly popular among Canadian property owners due to its numerous benefits.
Advantages of PVC Fence Oshawa
PVC should be your top choice when selecting material for your new fence due to the following benefits:
Essentially Maintenxance-Free
If you're looking for a low-maintenance fence, then PVC is an excellent option. It is almost maintenance-free and can be easily cleaned with a hose. Unlike other fencing materials, vinyl fencing does not require regular painting or staining since it retains its color exceptionally well.
Durable and Strong
Vinyl fencing is surprisingly strong and durable. Unlike wood, it is not vulnerable to rot, rust, or water damage, making it ideal for use near water features and pools.
Flexible
The flexibility of PVC fencing makes it incredibly strong. Unlike other fences that may break or topple in high winds or force, PVC fences are designed to bend and maintain their shape, making them incredibly sturdy and long-lasting.
Affordable and Easy to Install
PVC fence installation is straightforward, and many Oshawa property owners do it themselves. Even professional installation services provided by PVC Fence Oshawa are more affordable than other types of fencing. Plus, the low maintenance costs make PVC fencing an economical choice.
Longevity and Low Maintenance Requirements
Due to its longevity and minimal upkeep requirements, PVC fencing is a cost-effective investment in the long run.
Various Styles to Choose From
PVC Fence Oshawa offers a range of vinyl fencing styles, from post and rail to ornamental or privacy. You can choose the type of fencing that suits your aesthetic preferences.
PVC Fence vs. Wood Fence
Strength: A vinyl fence is up to five times stronger than a wood fence.
Resistance to degradation: Unlike a wood fence, PVC fence Oshawa is not vulnerable to termites, rot, decomposition, or water absorption. Thus, you don't need to spend as much time and money to maintain its appearance.
Life span: Wood doesn't last as long as vinyl fencing.
Value for money: Although a wood fence may sometimes be cheaper to buy upfront, vinyl fencing Oshawa costs less in the long run and is much better value for money.
Compared to wood fencing, PVC fencing in Oshawa is stronger, more resistant to degradation, longer-lasting, and more cost-effective in the long run.
PVC Fence vs. Iron Fence
Ease of installation: Iron fencing is not hard to install, but a vinyl fence is much easier.
Privacy features: Iron privacy fences are not common, so they're not a great choice for keeping your space secluded and comfortable.
Flexibility: Although aluminum fencing is a strong option, it lacks the flexibility of vinyl fencing.
Price: Iron fencing is more expensive than vinyl fencing and is prone to rusting over time.
Compared to iron fencing, PVC Fence Oshawa is easier to install, more private, more flexible, and less prone to rusting.
A Variety of Uses for PVC Fences
Oshawa homeowners and landowners use PVC fences in various ways. These include enclosures for animals, particularly horses, swimming pool fences, and privacy fencing for residential or commercial properties. Contact us today to inquire about your PVC Fence Oshawa project!
Final Thoughts – PVC Fence Oshawa
PVC Fence Oshawa provides an affordable, durable, low-maintenance, and versatile fencing option that meets all your requirements. It is a high-quality material that not only looks great but also functions well and is easy to maintain. With PVC fencing, you can save time, money, and effort while increasing the security and enjoyment of your property.
Looking for other types of fencing? Click here to view our showcase website!